Shimmy Upskill is a video game that teaches digitally illiterate garment workers basic digital skills. The lessons are...
This work was completed as part of a one-month quartier21 artist-in-residency during the Technosensual exhibition at the MuseumsQuartier in Vienna, Austria. In...
Becky Stern made embroidered patches to memorialize Beatrice. The sweet kitty lived a long and adventure-filled 17 years...
Sometimes we need secret codes to communicate with our friends, partners, or colleagues while in the company of...
Yuchen Zhang got the inspiration for Illuminate when she was doing research around how air pollution could impact people's...
This project from Joanna Berzowska describes a series of reactive body-worn artifacts that display their history of use...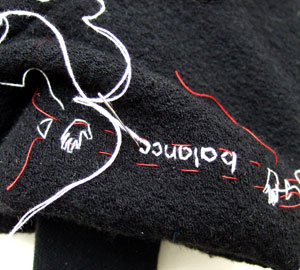 The aim of the Greetometer Handshake Trainer (from Meg Grant) is to have computers to teach humans how...
Costurero Viajero is Costurero Viajero was created by Artesanal Tecnológica, a research collective, led by Tania Pérez-Bustos and...
"The Making Core Memory project is a design inquiry into the invisible work that went into assembling core...
"Crafted Logic is part of a larger research into creating electronic components from scratch. The piece consists of...
Back to Top